My week. Nothing monumental. Just the events of an everyday life - sleeping, working, commute to and from work, feed the family, feed the cat.
1//30/11 Sunday: Bring on the rain. We were wet today but not suffering as bad as other parts of the country and world.
1/31/11 Monday: It was cold the night before. There was some water siting in the gutter at the bottom of the street. As I drove over it I heard it crack. Frost on the roofs of homes is the closest thing we come to snow.
2/1/11 Tuesday: I love this blanket. Soft veloure on one side and faux fur on the other. It reminds me of the lambies we had for the kidlets when they were babies. They loved their lambies and I love this blanket.
2/2/11 Wednesday: I think it's appropriate that I had photographed my desk with my usual breakfast smoothie in the midst of everything. Today. Groundhog's Day. We watched the movie Groundhog's Day at night. I love that movie. It's our tradition for Groundhog's Day.
2/3/11 Thursday: Today was a little unusual at work. Worked for a large chunk of the day on a project with the boss.
2/4/11 Friday: I've noticed that it doesn't take me long to get everything out on the table and papers and projects
all out so I can see them. It's a wonder that I don't get things all mixed up.
I wonder if I'm the only messy worker. How about you. Do you spread everything out or are you neat and tidy?
2/5/11 Saturday: I'm a sucker for sweaters. I found this at Costco. I tried it on and took a picture of it since there are no mirrors or dressing rooms to see how it looked. I was satisfied with the look of it on me so I took it home with me.
I'm thinking about going back and picking up a black one as well. How about you? Do you have a soft spot for a particular item that you just can't resist?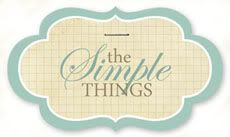 This post has been brought to you by me joining in "Simple Things" blog hop. Appreciating those simple things that bring a smile to your face.
Ciao y baci mis amicos
TTFN