This has been a long week. Not due to drudgery or due to being busy,
but because on Monday I thought it Wednesday.
2/6/11 Sunday: We took a drive in the country after church. Enjoyed the beauty of the day and delightful creatures.
2/7/11 Monday: I spent a little bit of time crafting with My Sweet Pea making String of Hearts.
For dinner I threw bunch of veggies in a pan to saute for our pasta and goat cheese entree. I thought all the veggies looked pretty when the colors popped as they were being sauted.
2/8/11 Tuesday: I started a sewing project. Didn't get very far. Just cut it out actually. I still need to get lining fabric for it. Oh, it's a skirt I'll be sewing.
Zeba snuggled herself into the folded project.
2/9/11 Wednesday: Yeah! Wednesday is finally here! I saw this license plate ring on the way home from work. At first I laughed when I saw it then I thought that I am glad I haven't felt that way my kidlets. I am so glad we homeschooled and the bonus of that was the bond created between us.
2/10/11 Thursday: After work I snatched some quiet time to read and ponder. I've started reading "One Thousand Gifts" and as I read I was reminded of some things I had observed while reading from the scriptures earlier. I like when I am able to make connections in several different ways. It emphasizes and enforces what I've learned.
2/11/11 Friday: I have a holiday from work. I spent the most pleasant and peaceful day reading, ponder, sewing, and documenting life.
2/12/11 Saturday: Today is my little sister's birthday. Happy birthday, Sis.
We had a great day in Morrow Bay for you - walking along the wharf then watching the day colors change to night as the sun goes down for bed under liquid covers.
It's those simple things in life that make the days full.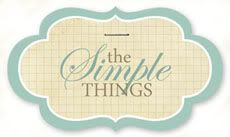 Wishing you days full of simple pleasures.
Ciao y baci mis amicos,
TTFN